Erdogan Renews Rate-Cut Demands as Economy Erodes Support
Turkish President Recep Tayyip Erdogan renewed calls for lower interest rates despite elevated inflation, sending the lira to a fresh low against the dollar and prompting the central bank governor to push back against expectations of an imminent move.
With a vague reference to summer months as a target date for a reduction in borrowing costs, it was Erdogan's latest intervention at the central bank, where he installed Governor Sahap Kavcioglu in March after firing the previous governor for tightening policy too much.
"It's an imperative that we lower interest rates. For that, we will reach July and August thereabouts so that rates can begin to fall," the Turkish leader said in an interview with state broadcaster TRT late Tuesday.
The lira weakened around 3% early Wednesday to more than 8.8 per dollar. Hours later, Kavcioglu tried to contain the damage. "Expectations for an early easing of policy, which aren't based on a just reasoning, need to disappear," he told investors, according to a copy of the presentation sent to reporters.
The currency trimmed its losses but was still trading 0.6% lower at 8.5864 by 2:58 p.m. in Istanbul. It's the worst performer among emerging-market currencies this year, having lost more than 16% against the dollar since Erdogan fired Kavcioglu's predecessor.
The president holds the unorthodox belief that lower borrowing costs will help slow price gains as well as stimulating the economy, and he has repeatedly urged the central bank to cut the benchmark rate. He's pressing his case again as the economic damage wrought by pandemic restrictions, rapid inflation and high unemployment have sharply eroded his popularity and that of the ruling party he controls.
Growth has but "remains mostly driven by bank lending and that requires easing monetary conditions as much as possible in order to keep the boat afloat," said Cristian Maggio, head of portfolio strategy at TD Securities.
TURKEY INSIGHT: What's Driving Lira to Record Low? 57% Sentiment
Cutting interest rates will lower producers' costs and eventually result in slower increases in consumer prices, Erdogan said.
"If we remove the burden of interest rates from investments and costs, then we will enter a calmer environment because it's the interest rates that cause cost inflation" in the first place, he said.
Lowering unemployment is a top priority for Erdogan and his ruling AK Party, which lost local elections two years ago in most of the municipalities where joblessness was in double digits -- including the biggest city Istanbul and capital Ankara.
Headline unemployment stands at 13.1%, with the rate among the country's youth around double that.
But inflation at more than three times the official target of 5% makes it impossible for Kavcioglu, the bank's third governor in less than two years, to embark on an easing cycle just yet. Premature rate cuts in the past resulted in a weaker lira, which eventually pushed consumer prices higher and forced the monetary authority to unleash major rate hikes.
Erdogan's repeated interventions in the monetary policy since 2013 also led to an increased appetite for foreign currency and gold in the economy as Turks have remained reluctant to convert their savings to liras to hedge themselves against runaway consumer prices and bouts of volatility.
Turkish residents hold $255.8 billion of foreign-currency deposits, equivalent to more than a third of national output and more than double the level eight years ago.
Data due Thursday will show inflation rose an annual 17.3% in May, up from 17.1% in the previous month, according to the median estimate in a Bloomberg survey of 25 analysts. More than half predicted an acceleration for an eighth month.
Under the new governor, Turkey's central bank kept its benchmark interest rate unchanged for a second meeting last month after forecasting that inflation had reached its peak in April. Some analysts, including Barclays economist Ercan Erguzel, had contested Kavcioglu's prediction, saying the upswing in April "is probably not a peak."
()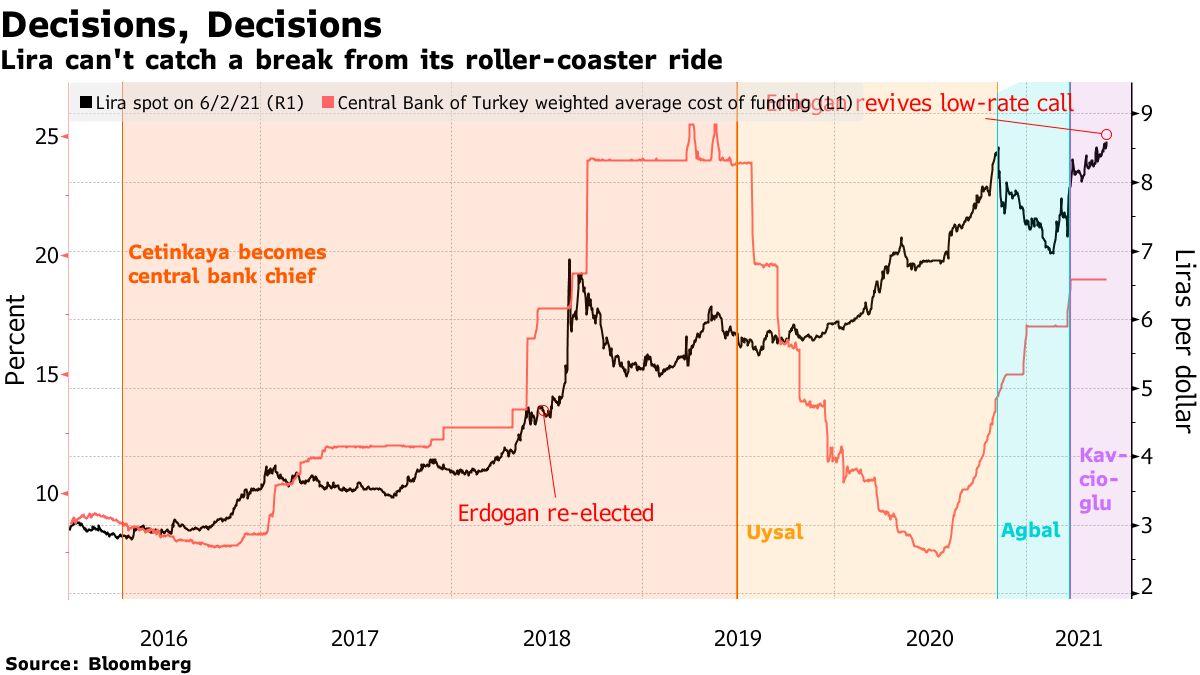 Turkish president cites 'July-August' in call for rate cuts
Currency weakens to fresh lows after president's TV remarks