Where China Rules and the U.S. Dollar Reigns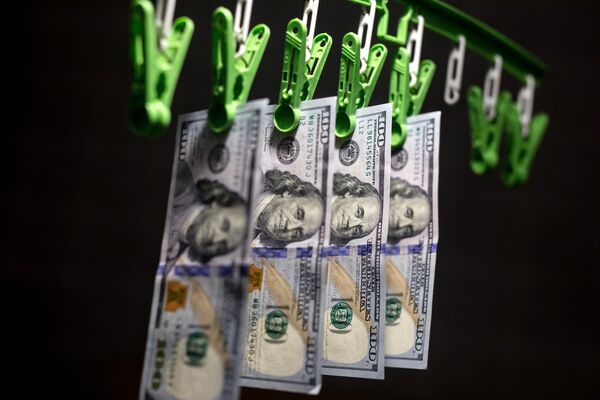 The Biden administration's business advisory on Hong Kong has generated more heat and light than appears justified by its contents. The fireworks may be a sign that the U.S. and China are content to let hostilities play out as diplomatic theater, and are reluctant to raise confrontation to a level that would meaningfully challenge the functioning of a key global financial center.
The nine-page statement mostly reiterates facts that are known: China's legislature  a national security law on Hong Kong last year; the law has significantly reduced rights and freedoms; risks have risen for businesses and individuals, spanning areas including data privacy, transparency and access to information.
It nevertheless provoked a fierce reaction from the Hong Kong government. "The U.S. administration's latest attempt to issue a so-called 'advisory' to U.S. businesses and individuals operating in Hong Kong based on totally ridiculous and unfounded fear-mongering about the situation in Hong Kong only serves to prove yet again its hypocrisy and double standards, driven by ideological hegemony," an unidentified spokesman was cited as saying in a , employing rhetoric that has long been standard in China's Communist state media but which was largely unknown in Hong Kong until enactment of the security law. The Chinese government called the advisory "."
The U.S. statement also drew some barely concealed  from the American business community in Hong Kong. Executives in the territory are dealing with these risks every day and may feel they don't need advice from officials 13,000 kilometers (more than 8,000 miles) away in Washington that only raises the temperature and invites awkward questions from the head office. In a , the 1,400-member American Chamber of Commerce said it was "well aware" of an increasingly complicated geopolitical environment and its risks.
The most threatening aspect of the U.S. communique comes at the end, where the administration notes that China passed an anti-sanctions law in June, raising the prospect of countermeasures against companies that comply with U.S. penalties. The statement concludes: "Accordingly, businesses operating in Hong Kong may face heightened risk and uncertainty in connection with sanctions compliance efforts. Failure to comply with U.S. sanctions can result in civil and criminal penalties under U.S. law."
That can be read as a warning: In the event that China extends its anti-sanctions regime to Hong Kong, the U.S. government has no intention of backing down. Companies won't be able to use Beijing's law as a reason for failing to comply with U.S. measures.
It's a prospect to keep expatriate executives awake at night — being caught in a clash of wills between two giant adversaries, with no possibility of satisfying both at the same time. They can probably relax. The anti-sanctions statute is a mainland law, so doesn't apply in Hong Kong. To make it effective in the city, Beijing would either have to insert it into the Basic Law (the former colony's de facto constitution) as it did with the national security law, or have the local legislature pass its own laws. There's no indication that it plans to do either.
Why not? One reason is that, by virtue of being a financial center with a pegged currency and free capital flows, Hong Kong is part of the dollar world. Hong Kong belongs to China, but the dollar system is America's territory, across the globe. To appreciate the power of this exorbitant privilege, consider that not a single bank — U.S., Chinese or from anywhere else — seems to have been willing to offer Hong Kong Chief Executive Carrie Lam services after she was last year for her role in implementing "Beijing's policies of suppression of freedom and democratic processes." Lam complained in an interview that she had "" at home because she didn't have a bank account.
The U.S. holds the stronger cards in this arena, then. China, moreover, has no reason to escalate this conflict. The Communist Party has made clear that asserting control over Hong Kong is its paramount objective and it is willing to pay any price to achieve that end. But if it can do so without mortally damaging the city's role as an international financial center, so much the better. And Beijing has already accomplished the bulk of its goals: The political opposition has been , troublesome media outlets  or subdued, activists , universities , and schools roped into a drive for "."
In reality, this is a confrontation that the U.S. probably doesn't want, either. Control of the world's reserve currency gives Washington huge financial muscle, but not unlimited freedom of action. The U.S. Treasury Department hasn't punished any Chinese bank since Congress passed the Hong Kong Autonomy Act last year, as Kurt Tong, former U.S. consul general in Hong Kong, observed in an  for Foreign Affairs this month. Sanctions on major Chinese banks could trigger instability in international transactions, in turn harming U.S. financial markets and the perceived reliability of the U.S.-centric global payments system, Tong wrote. 
So it should be no surprise that U.S. attempts to punish China for its actions in Hong Kong haven't caused any noticeable disruption to the city's financial markets. Washington can't fire its most powerful weapons without hurting itself. In any case, it was always likely that the loss of Hong Kong's freedoms would lead to a slow withering away rather than any big-bang collapse. The city owes its rise as a financial center to U.S. and global engagement with China in the reform era. If that process goes into reverse, Hong Kong is almost certain to lose relevance. As ever, the city's fate will be decided by forces that are far beyond its control.
To contact the author of this story: at
To contact the editor responsible for this story: at