Cathie Wood's Ark Grants Itself Power to Buy Canada Bitcoin ETFs
Cathie Wood's Ark Investment Management is allowing one of its funds to invest in Canadian Bitcoin ETFs as the money manager seeks fresh ways to bet on digital assets.
In a late-Friday for the $5.7 billion ARK Next Generation Internet ETF (ticker ARKW), the firm tweaked the fund's prospectus to include reference to holding exposure to cryptocurrencies via "exchange-traded funds domiciled in Canada." 
The move comes after the $1.3 billion Amplify Transformational Data Sharing ETF (BLOK), a blockchain-focused product, was last week to have a tiny stake in three Canadian Bitcoin ETFs.
Investors and issuers in the $6.8 trillion U.S. ETF market are still waiting for regulators to approve exchange-traded products investing in cryptocurrency. While Canada and Europe have raced ahead, a huge has built up with the Securities and Exchange Commission. Ark is among those in line, having teamed up with Switzerland-based 21Shares AG to for a fund in the U.S.
ARKW already boasts some Bitcoin exposure -- about 5.5% of the fund is invested in the Grayscale Bitcoin Trust (GBTC), according to data compiled by Bloomberg. 
The $30 billion vehicle is arguably one of the easiest ways for investors to access cryptocurrencies in the U.S. via a fund, but its structure makes it inefficient and its value frequently detaches from that of the Bitcoin it holds. 
As of Friday, GBTC was down about 20% since the first Canadian Bitcoin ETF launched in February. That fund, the Purpose Bitcoin ETF (BTCC) has dropped 9%. ARKW has lost about 6.5% since then, but is still up 2.3% year-to-date. It has lured about $691 million in new cash in 2021.
A spokesperson for Ark didn't immediately respond to a request for comment on the documentation changes.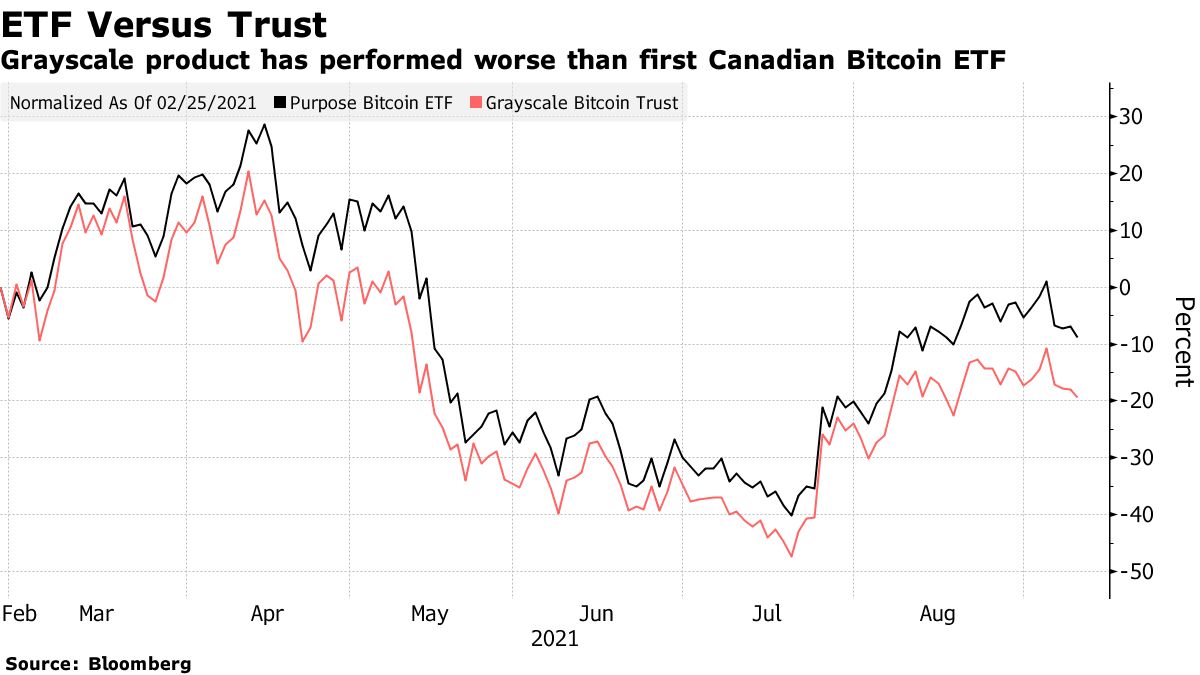 New filing adjusts language for Next Generation Internet fund
Move follows Amplify product adding Canada fund exposure