Asia Stocks Climb Amid Japan Rally; Yen Weakens: Markets Wrap
Asian stocks climbed Monday, helped by rallies in Japan and Chinese technology shares, while crude oil surged past $80 a barrel amid a global energy crunch.
were boosted by a weaker yen and Prime Minister Fumio Kishida's comments that he isn't considering changes to the country's capital-gains tax at present. A Hong Kong gauge of Chinese tech equities jumped 3% on easing concerns about Beijing's crackdown on internet platforms, with food delivery giant Meituan bolstered by a lower-than-expected antitrust .
U.S. futures fell after Wall Street declined Friday on disappointing jobs growth data that also showed a jump in earnings. Wage gains and higher energy costs are stoking inflation and supporting the case for tighter monetary policy to tackle inflation, including a looming tapering in Federal Reserve stimulus.
West Texas Intermediate crude was around the highest since 2014. China's coal futures reached a as flooding shuttered mines. A gauge of the dollar was steady. Treasury futures fell, after the 10-year U.S. Treasury yield advanced past 1.6% on Friday. There's no cash Treasuries trading Monday due to a U.S. holiday. 
Investors are braced for upcoming reports on third-quarter company profits and monitoring risks from an energy crunch, the prospect of tighter monetary policy and debt woes in China's property sector. In the U.K., Bank of England officials moved to signals of an imminent rise in interest rates to curb inflation, boosting the pound.
"We do have this environment where we have expectations for inflation rising and expectations for growth falling but I don't think we are going to be in an environment where we see stagflation becoming entrenched," Kerry Craig, global market strategist at J.P.Morgan Asset Management, said on Bloomberg Television.
Goldman Sachs Group Inc. economists their forecasts for U.S. growth this year and next, blaming a delayed recovery in consumer spending. The declines were mostly offset by upgrades to projections for the following two years. 
In cryptocurrencies, Bitcoin was steady, trading around $55,000.
Here are a few events to watch this week:
For more market analysis, read our MLIV blog.
Some of the main moves in markets:
Stocks
Currencies
Bonds
Commodities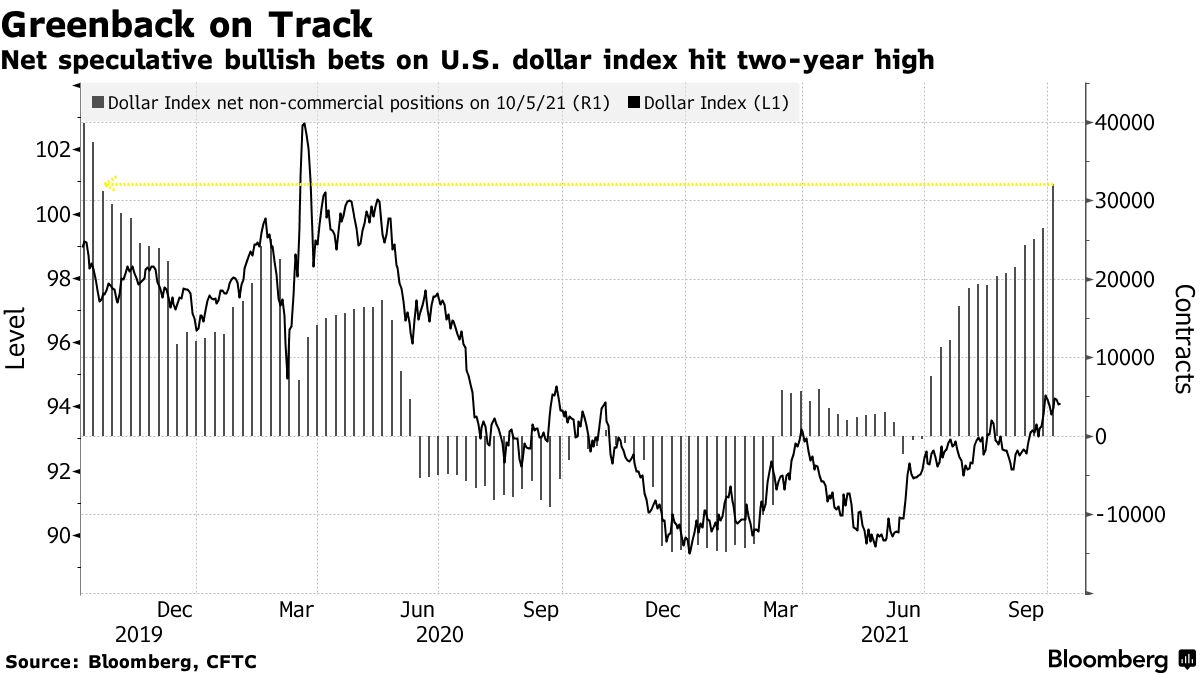 U.S. futures dip; Fed seen tapering despite weak jobs data
WTI crude oil above $80 a barrel; gauge of dollar steady