Swiss Franc Rally Shows Traders See It as Key Stagflation Hedge
Currency traders are responding to stagflation risks by turning to the Swiss franc.
Amid concerns that the global economy is heading toward an environment characterized by higher-than-normal inflation and little or no growth, the Swiss currency is showcasing its haven status.
It rose Thursday to the strongest level against the yen -- another traditional haven currency -- since December 2015, while it reached an 11-month high versus the euro.
According to Deutsche Bank analysts, the Swiss franc is a good hedge play thanks to the country's central bank and an economy less exposed to prevailing price pressures.
Hawkish SNB Makes Franc a Good Stagflation Hedge: Deutsche
Given the Swiss National Bank has a strict inflation mandate, it may allow the franc to strengthen as a defense against imported inflation. This in turn means that a key pillar of resistance, the currency interventions the central bank holds in the spot market, will fall away, potentially encouraging investors to add franc longs for their haven appeal.
Aside from commodity currencies, the Swiss currency shows the strongest resilience against the dollar over the past month among its Group-of-10 peers. According to traders, its rally Thursday versus the euro came as large option barriers were triggered in an area where the SNB was reported to have been buying in the past.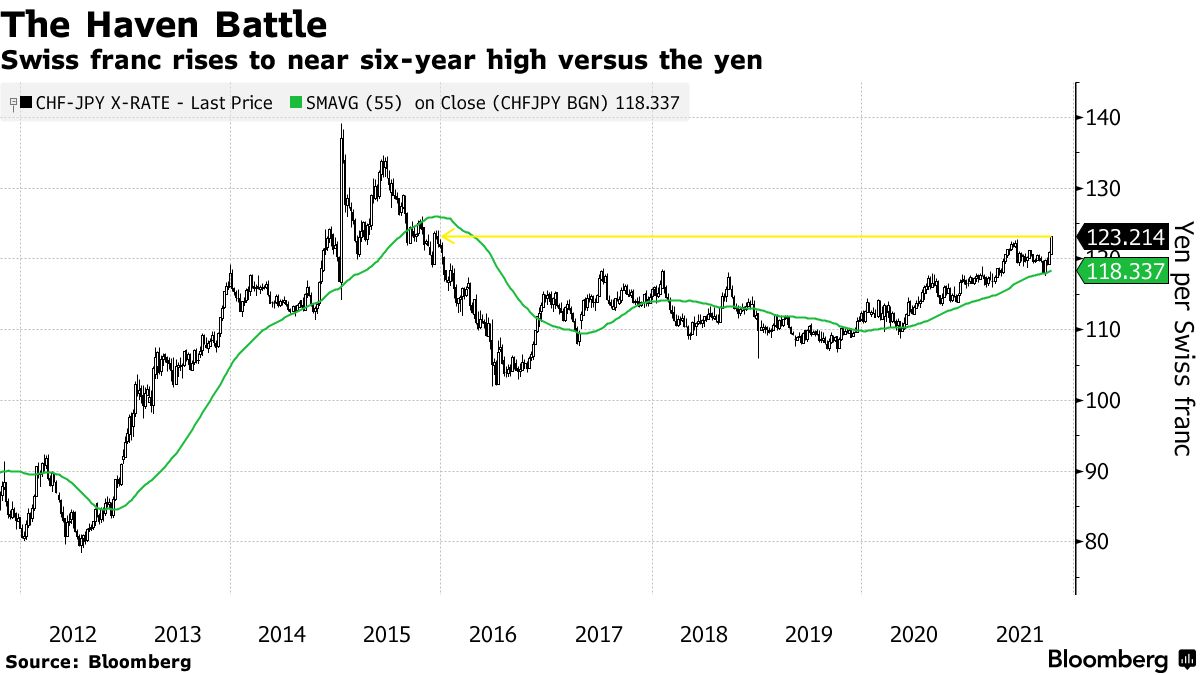 Currency rises to strongest since late 2015 against the yen
SNB strict inflation mandate could mean less need to intervene