Dollar Rises to Highest Level Since July 2020 After U.S. Data
The dollar surged to its strongest level in more than a year, driven by a climb in Treasury yields this week following U.S. President Joe Biden's decision to renominate Jerome Powell as head of the Federal Reserve.
The Bloomberg Dollar Spot Index was up as much as 0.5% after a swath of U.S. economic data was released Wednesday, including figures that showed jobless claims at the lowest level in decades. The move pushed the greenback index to a level last seen in July 2020.
The gauge has added more than 2% this month as concerns about rising inflation have spurred bets on tighter Fed policy. The dollar has strengthened against all but two of 16 major currencies tracked by Bloomberg, as threats ranging from Covid to soaring inflation loom around the world. 
"We have a nice perfect storm for the USD higher," said Brad Bechtel, global head of foreign exchange at Jefferies. "You have an element of U.S. outperforming the rest of the world, which will drive U.S. rates higher, as well as an element of safe-haven demand for dollars as emerging markets continue to see their currencies melt down and Covid rates spark new concerns on growth in the Eurozone." 
Traders are watching progress in the labor market for clues on the Fed's policy path, as Powell has emphasized such progress is a key condition for tightening monetary conditions in the world's largest economy. JPMorgan Chase & Co. strategists led by Paul Meggyesi forecast a stronger greenback next year as Fed rate hikes approach, they wrote in a report Tuesday. 
The greenback gained about 1.1% against the New Zealand dollar, the day's biggest loser among Group-of-10 currencies, after the New Zealand central bank raised its benchmark rate by a quarter point as forecast, but disappointed some hawks by saying it would take a cautious approach to further tightening.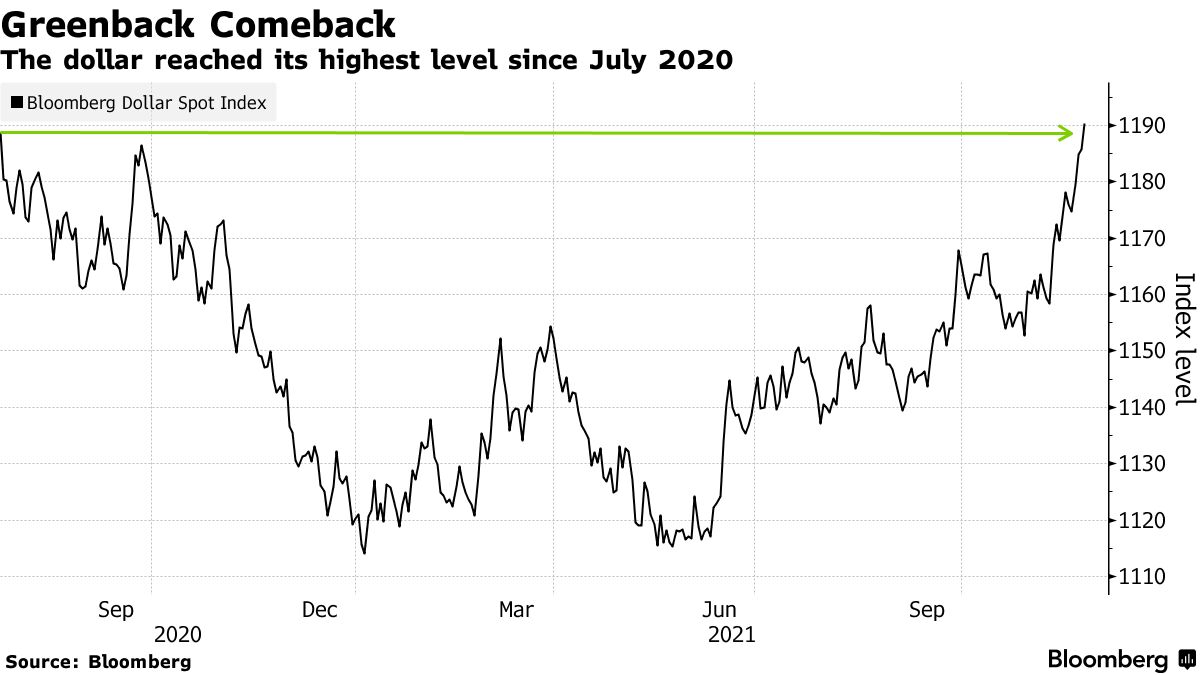 Bloomberg dollar index has gained more than 2% this month
Biden's Fed picks have given U.S. rates, greenback a boost