Brazil CFOs Are Betting World's Top Currency Rally Is Over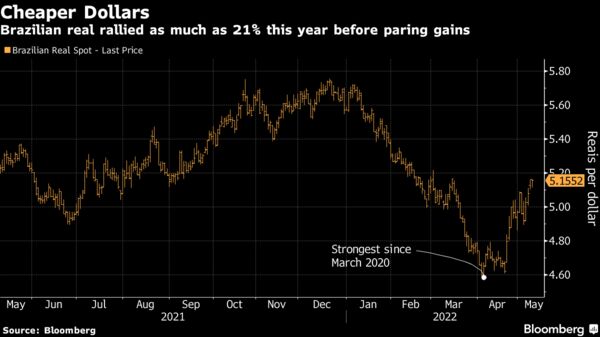 The CFOs of some of Brazil's biggest and most cash-flush companies are showing little faith in the rally that has made the real the world's top-performing currency this year.
Companies from state-run oil giant to planemaker are buying back their bonds in international markets.
It's a seemingly odd move, given the surge in global yields, and one that has been seen nowhere else in the region. But for anyone worried that the real's rebound could turn into a rout -- and drive up the cost of servicing foreign debt -- as a contentious presidential election heats up, now's a good moment to pay back that debt.
"The foreign-exchange rate below 5 reais per dollar probably motivated these buybacks," said Gustavo Brotto, chief investment officer at Greenbay Investimentos Ltda. in Sao Paulo. "On top of the fact that, companies have quite a lot of cash available."
In the year's first four months, 10 companies announced tender offers, the most active start to a year in data going back to 2016. The firms are set to buy back about $5 billion of debt, seeking for the most part to reduce leverage instead of refinancing. 
The suddenness of the moves suggests corporate finance chiefs suspect the real is vulnerable to a swift fall. It's already given back a big chunk of its rally this year and traders expect it to remain highly volatile as October's presidential vote nears.
The real gained as much as 21% against the dollar this year -- reaching a high at 4.5853 per dollar in early April -- before paring the advance to about 8% -- still the world's best performance.
The currency was hit by fears about more aggressive Federal Reserve monetary tightening and the looming end to Brazil's hiking cycle, which had lured investors drawn to the higher rates. Analysts surveyed by Bloomberg see it weakening toward 5.2 per dollar by the end of the year.
Brazil Firms' Dollar-Bond Buybacks to Weigh on Real: Galapagos
The real's three-month implied volatility is hovering around the highest since September 2020 amid concern this year's elections could bring about political turmoil. And the debt buybacks themselves have undercut the real as some companies send money abroad to repurchase the debt. 
"These buybacks are adding pressure to the currency," said Sergio Zanini, partner and portfolio manager at Galapagos Capital in Sao Paulo. "Especially if these companies don't have big external cash reserves."
Amid the surge in buybacks, new overseas bond sales by Brazilian companies plummeted by half in the first quarter from a year ago, according to the latest from Anbima, the nation's capital markets association. It's a similar trend to what's happening across emerging markets, which in April saw debt sales slump to the lowest for the month in a decade. 
Brazilian companies sold the most local bonds for a first quarter since 2012, according to Anbima. They raised 55.9 billion reais ($10.8 billion) in that market, almost double the volume for the first three months of last year.
But for the most part, the firms buying back their overseas debt aren't the same ones that are selling debt locally.
Petrobras as the state-run oil producer is known, bought back for cash almost $2 billion in dollar-denominated bonds maturing between 2024 and 2051 last month, and Embraer repurchased about $290 million in notes due later this year and the next. 
One of the latest firms to conclude a tender for cash was , an energy-focused holding company, that bought back almost $600 million in notes due 2026 and 2029. Utility Aegea Saneamento e Participacoes SA in late April came up with an offer to repurchase up to $400 million in bonds due 2024 while also announcing the sale of $500 million in new dollar notes due 2029 and 2.8 billion reais in local bonds. 
The buybacks have slowed recently as the real gave up some of the gains from earlier this year. But they could accelerate again if the currency strengthens, according to Brotto. 
"Further strengthening of the Brazilian real, past 5 per dollar, would likely lead more companies to buy back foreign debt," he said. "That's for companies that are well capitalized, since borrowing money has become more expensive both locally and abroad."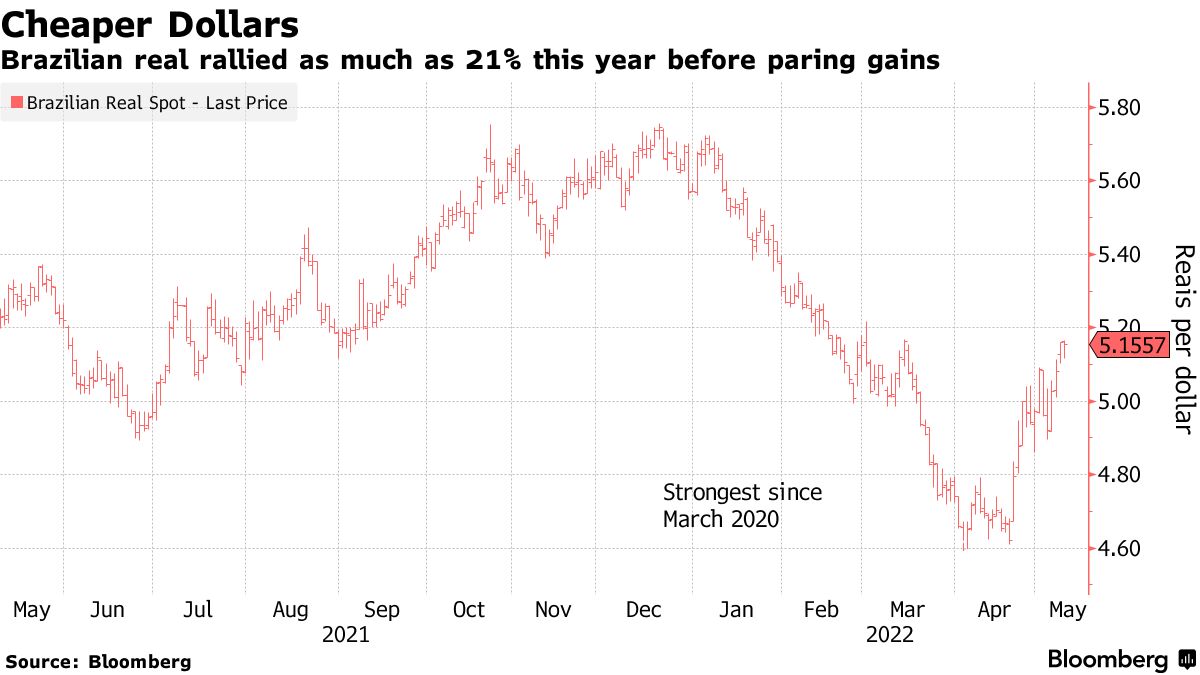 Companies are buying back foreign bonds even as yields soar
Petrobras, Embraer have done tender offers this year