'Transitory' Upswing in Inflation Quiets Rate Hawks in Egypt
Egypt's central bank surprised most economists by leaving interest rates unchanged on Thursday, saying it can do little about external shocks to prices a month after delivering its biggest hike in nearly half a decade.
The Monetary Policy Committee maintained the deposit rate at 11.25% and the lending rate at 12.25%, a decision predicted by only three of 13 analysts by Bloomberg. While its move in May was more hawkish than expected, the central bank now appears content to wait out what it called "transitory deviations" of inflation from target. 
"The MPC treats the developments stemming from the Russo-Ukrainian conflict to be among the exogenous shocks that are outside the scope of monetary policy," it said in a .
The central bank reiterated that the elevated pace of price increases "will be temporarily tolerated" relative to its target of 7%, plus or minus two percentage points, on average in the fourth quarter. Annual inflation was above 13% in April and May, meaning both Egyptian policy rates are negative when adjusted for prices.
Central banks around the world are in a rush to curb inflation that's accelerated to levels unseen in decades, fueled in part by higher energy costs and supply shocks from the war in Europe. After initially describing big price increases as "transitory," policy makers in major economies like the US now using the label since inflation momentum is proving more lasting.
War Fallout
Egypt's decision is a surprise because a devaluation of the pound in March is adding to the pressures, with a spike in food and fuel prices already sending inflation to its highest level in three years.
The Arab world's most populous nation enacted a cumulative 300 basis points of hikes since March as it grappled with the economic fallout of Russia's invasion of Ukraine. 
"While we agree that inflationary pressures are largely exogenous and transient, emanating as they do from the devaluation of the Egyptian pound and higher global food prices, we had been expecting further tightening in monetary policy to lean against pressures building on the currency," said Farouk Soussa, an economist at Goldman Sachs Group Inc. in London.
Policy makers said on Thursday they'll be weighing the effect of their recent rate increases on inflation expectations and other developments across the economy over the medium term. 
The approach may temper concern over the effect of rising rates on debt-servicing costs for what's already one of the Middle East's most indebted nations -- an issue Finance Minister Mohamed Maait addressed in an interview this week.
Egypt still needs to win back foreign investor interest in its local debt after rising consumer prices eroded what had been among the world's highest rates when inflation is taken into account. Overseas portfolio investors have pulled an estimated $20 billion from the domestic market this year.
Relief has come from Egypt's Gulf allies, who've pledged more than $22 billion in deposits and investments in recent months. Authorities have promised to set new policies on government ownership to encourage more participation by private-sector investors. There are also talks with the International Monetary Fund for possible support.
"Egypt's central bank has not fully shut the door on further rate hikes this year, but the bar has definitely been set higher," said Gergely Urmossy, emerging-market strategist at Societe Generale.
()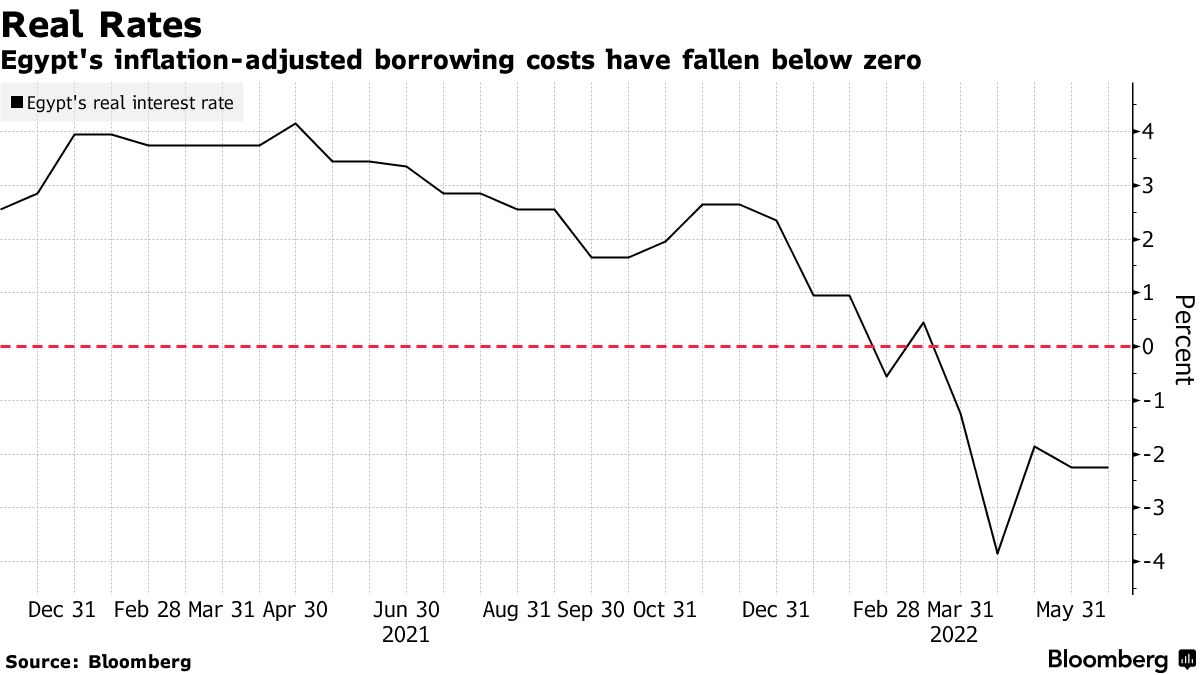 Central bank surprises most analysts by leaving rates on hold
Food, fuel prices sent inflation to its fastest in three years